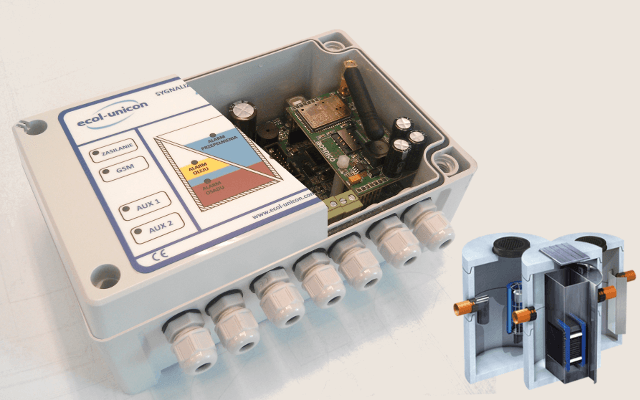 On request and in cooperation with Ecol-Unicon, the telemetry module was designed and implemented for production – the signalling device for separators of petroleum products and fats produced by Ecol-Unicon. This company is the largest producer and distributor of water protection devices on the Polish market and the most recognizable brand in the field of rainwater treatment technology.
The signalling device for separators is a modern processor device designed for controlling levels and overfilling of petroleum substances/fats and sludge in water and sewage devices. This device has LEDs located on the main panel to indicate the status of sensors and device operating states. It also has a USB output for communication with the computer.
The internal GSM module allows sending SMSes to the mobile phone or tablet of the person controlling such water and sewage devices, as well as continuous monitoring of the device status via GPRS connection. The signalling device is intended for operation outside the hazardous area and has:
simultaneous monitoring of up to 3 sensors
checking the status of two limit switches
three potential-free relay outputs
built-in acoustic signalling device
flash memory storing the system configuration and event history
real time clock
buffer power supply after connecting an external battery
This signalling device is available in two versions, with ~230V mains and battery supply.